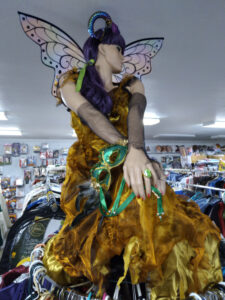 MARDI GRAS is just around the corner and Beauty and the Beast Costumes, Chattanooga has got all kinds of fun things for creative people. This year's theme is "Think Outside the Box!" Anything can be a Mardi Gras costume, even last year's Halloween costume or something out of your closet. If you want to be a more traditional, look for items that are Purple, Green, or Gold colored. Toss on mask, some beads, a crown, or feathers and you are good to GO! Let your creativity really fly and break all the 'rules' because let's face it, this is the holiday with only ONE rule – Enjoy yourself and live life to it's fullest.
Our beautiful Dark Mardi Gras Fairy is wearing a Hell's Belle costume from the clearance section, sparkling fantasy wings, iridescent ram horns and purple rose head band, purple and black Glamour wig. Toss on some green accents like ribbon in her hair, a ring on her finger and an exotic hand held mask and she is fit to be an internet sensation!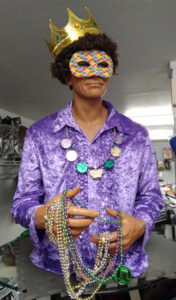 Ahhh! No ball is complete without a lounge lizard. This purple velvet disco shirt, gold crown, inexpensive mask, and a ton of beads to hand out is all he needs to wear with his favorite dress pants or thrift shop find. Add an Austin Powers attitude and he'll keep everyone laughing all night long.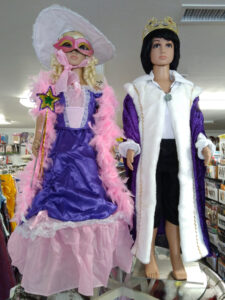 Mardi Gras in not just for the young at heart, the kids can get in on the fun as well. This young king is sporting an eye popping purple velvet robe with lush, plush white fur and glittering gold trim. He can wear any shirt and pants out of the closet. Top off this look with a bright gold crown and maybe a sparkling green wire wrap necklace.
Did this little sister have a left over Halloween or school project belle costume? If she loves her purple and pink dress, Mom only needs to pick up a pink mask and boa, or maybe add a Mardi Gras star wand to update her look, or start anew.