Beauty and the Beast Costume Shop in Chattanooga now has our best-selling Santa Claus Suits in stock! The Ultra Velvet Santa Suit is made of a beautiful, crush-proof, 'Coca-Cola' red velvet material with snow-white fur.
New for 2023 – It is now available in XXXLarge for the Jolliest of Santas with up to 66 inch Chest.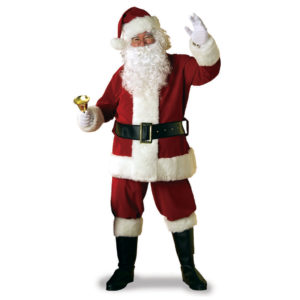 IN STOCK NOW:
Standard (Large) $100
XLarge $115
2XLarge $125
3XLarge $135
Includes:
Jacket with zipper front
Pants with side pockets
Belt with 3X5″ buckle
Hat, Gloves, Boot Tops
If you've been waiting for your favorite Elf Ears, come down!