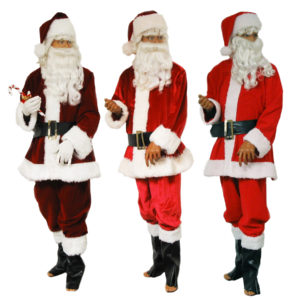 The most frequently asked question this time of year is "Do you rent Santa costumes?" The answer is an enthusiastic YES! So Ho Ho Ho! Here we Go with the rest of the answers to your most burning holiday questions.
How much does it cost to Rent a Santa suit?
Deluxe, above Left: $75
Regular, above Center: $55
Economy, above Right: $35
What's the difference?
The fabric texture and color of the suits is the main difference. Hair sets are also fuller with each tier.
What Sizes are available?
All three price tiers come in Large, XLarge, 2XLarge & 3XLarge.
We also have ONE Deluxe suit in 4XLarge.
What is included?
Every Santa suit comes complete with Jacket, Pants, Hat, Belt, Boot Tops, Wig & Beard.
How long is the rental period?
As always, rental are for couple of days through the week or the weekend is Friday to Monday. This way, you don't have to pick up or return on the day of your event. Early pick up or late return during peak season will incur an additional charge.
Don't forget, Santa needs friends!
Beauty and the Beast Costumes, Chattanooga has a variety of styles for Mrs. Claus and Elves which rent for $15, $25 or $35 each.