Wow! Already getting requests for Easter Bunny Information. Full details can be found on our Bunny page – CLICK HERE.
Other Easter related costumes and accessories can be found by selecting the Easter, Biblical, or World History categories to the right or by typing inquiries into the Search Bar on the top right of this page. Example: Type "Roman" to find all kinds of rental or retail costumes, armor, weapons and accessories.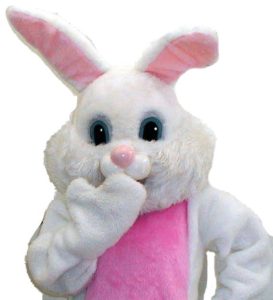 Sadly, our long term friendly competitor seems to have closed and their customers are searching for a new provider. It is always a sad day when a small business closes. We wish our friends well and great prosperity in their future ventures.
Obviously, those who have been loyal customers of that establishment preferred their products and services to those that we provide. Beauty and the Beast Costumes will be more than happy to help those displaced customers in any way that we can with a different but more extensive inventory of quality products and a different set of services.