Halloween Extended Hours are in Effect
Normal Hours all year long:
Monday – Friday 9 am – 6 pm
Saturday – 10 am – 2 pm
October has extended hours for Halloween:
1st week of October
Monday – Friday 9 am – 6:30 pm
Saturday – 10 am – 4 pm
2nd week of October
Monday – Friday 9 am – 7 pm
Saturday – 10 am – 6 pm
3rd week of October
Monday – Friday 9 am – 7:30 pm
Saturday – 10 am – 7 pm
4th week of October through November 1st for your convenience returning rental costumes.
Monday – Friday 9 am – 8 pm
Saturday – 10 am – 7 pm
November 2nd we, thankfully, go back to normal hours.
Close Out Blow Out
Continuing our traditional Summer Sales, we are giving extra discounts off any purchase that includes a Clearance item. To help customers shop, we've been adding new listings for many marked down items that have been overlooked. We need to make room for all the awesome new stuff coming in for Halloween.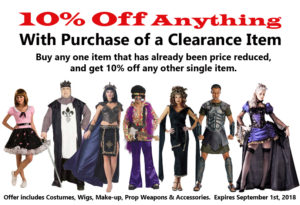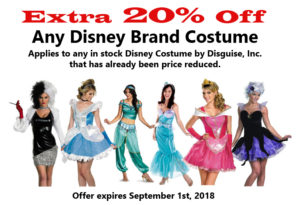 When the Easter Egg Hunts are Over
As always, our beautiful Bunnies were a BIG HIT all over the Chattanooga area. They sold cars, played golf and entertained all kinds of people from children at egg hunts to the elderly in assisted living homes. But when it's all over and the rental costumes come back, they have to be spot cleaned, soaked in stain removers and washed before they can be packed away until next year. It's a big job, but our dedication to providing high quality CLEAN costumes to all our clients is what keeps them coming back.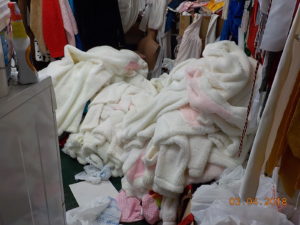 Just Added 100 New Wigs
While cleaning out the back room, we started updating the Wigs section of the website. You may be interested to know that we have added listings for over 100 MORE wig styles and colors over the last week. These are not new styles for Beauty and the Beast, these are classic favorites and long running best sellers. As of this posting, we are proud to display 382 different wigs for sale, in stock, right now. For those who ask "Do you sell wigs?" the answer is a big YES!
NEW! AdMed Adhesive and Remover
Due to popular demand for a facial adhesive that holds more securely than spirit gum, Beauty and the Beast Costume Shop has added Mehron brand AdMed (Medical Adhesive) to our line. While the price may be prohibitive to most casual users, that's probably a good thing. This stuff is like Super Glue for the face. That's GREAT if you know what your doing and need the extra hold for heavy duty use in haunted houses, theatrical performances or LARPing situations. However, for first time prosthetic users, it's not what we would suggest. Those who are accustomed to just pulling appliances off without using remover will NOT be able to do that with AdMed and careless actions could cause painful accidents.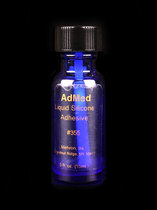 New Solution to Old Problem
For many years, Beauty and the Beast has clashed with early Christmas costume shoppers who are looking to outfit Santa and his friends in the middle of October. For those who have never visited our shop during the Halloween season, you may not understand how jam packed we are with Halloween merchandise. Most people understand that we can't leave a shop full of happy Halloween shopper to rummage around in the attic for out of season goods. It's harder to remember that even when it's quiet, we need to clean and restock. This year, we had extra added layers of 'busy' working on this website and our son's wedding to our cashier. Please forgive us for being somewhat distracted during October 2017.
During our peak season, we always seem to forget that Hamilton Place Mall throws a Christmas Parade on the first Saturday of November. Apparently, it gets bigger and bigger every year! This seems to drive a growing number of people to desperation hunting for Christmas items in October. Let me assure all of you that moving forward, I shall try to be more helpful and find a way to make our inventory more accessible to early Christmas shoppers.
This new website is powered by WordPress and Woo Commerce, which have been a painful learning curve. It has many features that I have not yet learned to use, including inventory listings, but I am learning how to get our massive inventory visible to the public. While the website and my memory have not served early Christmas shoppers well at all in the past, I hope to correct the situation in the future by getting the site updated. Hopefully, it will be more informative and easier to browse soon. New Christmas items will also be added to this site as soon as they arrive in September. I also plan to maintain a sampling of the most popular Christmas items at the back of the store all year long. Hang in there folks! We've been making a great many changes recently and plan to continue to renovate our retail structure through the new year.