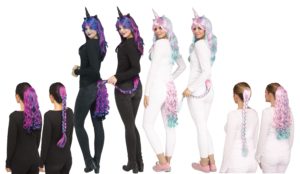 The first big shipment of the year from Fun World has arrived! It includes new costume, accessory and wig styles along with restock of many popular items. This year we are pleased to get new sizes on some long term favorites like the powder blue leisure suit and fancy pirate shirt.
Personal new favorites are the Unicorn Wig and Tail sets. Your choice of Mystical Dark or Enchanting Pastel wigs with horn and ears and matching tails in curly or braided. For extra fun, the Unicorn tails can also be worn as Pony tails in your hair or added to a wig.
Masquerade Mask Sale
All of our prior "BOGO" discounted masks have now been moved to the Close Out / Clearance section and permanently price reduced to make shopping easier. Apparently, the only thing more confusing than a mask with a headband was our Buy One Get One half off sale. Now, they are all clearly marked at 25-45% off.